Fabian Garcia SC Facility Dimensions
Facility
Greenhouses: 28,509 Sq. Ft.
(7 enclosed 3 Open with smaller hoop houses
Teaching Greenhouse: 1,170 Sq. Ft.
Teaching Room: 777 Sq. Ft.
Lab: 674 Sq. Ft.
Fertilizer Storage: 1,273 Sq. Ft.
Employee Break room: 593 Sq. Ft.
Office: 573 Sq. Ft.
Shop building: 1,809 Sq. Ft.
Onion Storage: 2,003 Sq. Ft.
Cooler Building: 708 Sq. Ft.

Fabian Garcia Botanical Gardens
Hours of Operation: The Fabian Garcia Botanical Gardens are open from sunrise to sunset. Hours may vary.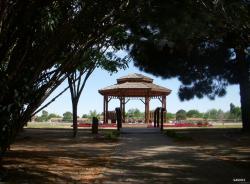 All photos by Stephanie Sweet unless otherwise noted.